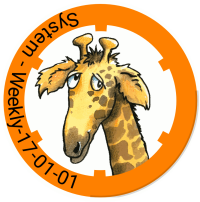 Weekly Badge
| | |
| --- | --- |
| rarity | rare |
| producer | System |
| color | orange |
| level | 6 |
| deployment | map |
| dropable | yes |
| paintable | no |
A "weekly" Badges, aka Weekly, will be deployed for every player, who has played actively the game within the last 4 weeks. Actively means here doing drops or takes. The location of deployment is somewhere close to locations, where the player has played in recent past, when possible on an unplayed quadrants. When a weekly is not picked up by a player, it will "wander" to a new location after some day. For the exact timing see Time Periods.
So far Weeklies feature artwork by Doris Matthäus.
This website now provides a map to hunt for older weeklies.